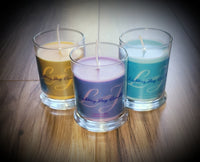 Who We Are

Lighting Joy Candles and Oils is a luxurious, handmade candle line that promotes quality ingredients and entices all of your senses.
Lighting Joy started as the result of two things: 1. my love for candles and 2. my great appreciation for essential oils and their beneficial properties.

I began my research into essential oils when I was pregnant with my son, LJ (hence the name, Lighting Joy). Given the fact that I couldn't take a lot of medications, I began looking into holistic approaches to ease any symptom that I had as well as provide comfort. My research led me to the creation of several candles and body oils which then led to this...Lighting Joy!