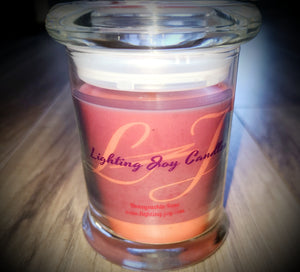 The smell of fresh flowers is sure to brighten anyone's day. Our line of Floral Scented Candles will make you feel as if you're walking through a meadow of fresh flowers.
Our Jar Candles burn for approximately 40 to 72 hours, size dependent, providing a wonderfully aromatic enviornment.  Each candle is made with premium-grade soy wax and all-natural essential oils or fragrant scents.
Shipping Notice: due to Lighting Joy's sole use of soy wax, which melts quicker than other waxes, candle orders placed will be shipped on Mondays through Wednesdays ONLY during summer months. This is to ensure that your candle(s) is not held in a warm shipping facility thus resulting in premature melting.